MADE TO MEASURE
J. Press + Jay Walter
Made-to-Measure Tailoring Program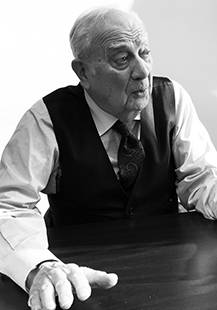 "J. Press is timeless: good in the past, good in the present and good in the future. It is very simple, easy to wear and comfortable on the eye. This is the J. Press look. Timeless quality. Having a suit made to your exact measurements and personal taste is a pleasure all gentlemen should enjoy."
Made-to-Measure reflects our commitment to craftsmanship, care and exclusivity that defines the J. Press look.
The Made-to-Measure service is available in our boutique conveniently located in Midtown East. To schedule a private in-store fitting, we invite you to call Mr. Walter and experience the craft and luxury of bespoke tailoring through the J. Press sensibility.
Jay Walter
Born in New Jersey State in 1929. In 1953, he founded Jay Walter Ltd., a men's clothing business. Currently, he is with J. Press' Made-to-Measure Program where he remains committed to serving his devotees in New York area.
---
J. Press + Jay Walter - Made-to-Measure Tailoring Program
51 East 44th Street New York, NY 10017
Tel. 646-973-1329
Hours: Mon-Thurs 10 am-6pm
Appointments Preferred